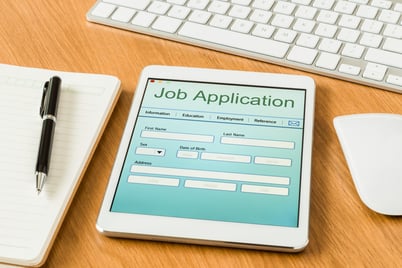 The job search process can often be long and exhausting, and many days can end with this frustrating question: "Why can't I get a job?"
It's a question that most people ask themselves at somepoint or another, but often goes unanswered. And perhaps the key to finding an answer it is to get more specific. Could there actually be something you're doing during the interview process that's preventing you from getting a job offer?
Here are a few reasons why you might not be getting the job offers you deserve.
You're not dedicating enough time to your job search.



To put it simply, you're not going to get the job you don't know about and looking for a new job takes an enormous amount of time and effort. It's impossible to become aware of new opportunities if you don't dedicate enough time to doing your research and actively engaging with your professional network. Updating your resume, individualizing your cover letters, and filling out job applications requires a lot of time and effort, and these tasks are vital to finding and landing your next job. Whether it's your dream job or just a better opportunity than your current position, it's not going to simply fall into your lap. There is work that must be done and overlooking or ignoring it won't yield the results that you're hoping for.
You're not qualified.
Having goals in your job search is essential, but you also have to be realistic. There is a fine line between trying to take a step up in your career and applying to positions for which you are obviously not a fit. That being said, applying to jobs that you are overqualified for might not yield your desired results either. It's hard enough to get an interview for a job that you're a perfect fit for, so make sure that you are being realistic with your applications in order to maximize your chance of getting a call back.
You're giving off the wrong impression.
Certain behaviors can give off the wrong impression during an interview and give employers easy reasons to eliminate a candidate from the running. For example, showing up late will make you seem unprepared and careless. Using your phone during the interview can portray a lack of genuine interest in the position. Below are some examples of behaviors that you should avoid during your interview in order to give off the right impression.
Being on your phone during your interview
Showing up late to the interview
Dressing unprofessionally
Being unprepared (not researching the company or not brining copies of your resume)
Sitting with bad posture or excessive yawning
Your resume and experience don't match.
Your resume provides the very first impression of you for an employer and is a deciding factor in the interview process. It needs to detail your relevant experience but also be concise and honest. If you have experience that is relevant to the position you're applying for but not on your resume, you are wasting an opportunity to stand out and secure an interview. Similarly, if you embellish the truth on your resume with experience that you don't actually have, it will undoubtedly reveal itself to the employer during your interview. Ensuring that your resume and experience level accurately match is a key factor in obtaining the interview and making the most of the opportunity.
Your confidence level.
Confidence is key to a successful interview process because it gives you the ability to effectively sell yourself and your experience to an employer. Confidence can sometimes be mistaken for arrogance, but a lack of confidence can come off as shyness or uncertainty, and both will be perceived as a negative. For an employer to hire you, they not only have to believe that you can be successful in that position, but they also have to like you and believe you will work well with your colleagues. An imbalance of confidence and modesty can cause an employer to doubt the sincerity of one or both of those things, and can ultimately prevent you from landing the job. Finding a strong balance of confidence and humility will always leave a lasting positive impression.
Self-awareness is hugely important, especially during the interview process. It's critical to recognize which skills and characteristics are helping your job search which ones are hurting it. The sooner you become aware of them, the sooner you can leave behind that nagging question: "Why can't I get a job?"
Messina Group is Chicago based staffing firm with experience placing hundreds of temporary and contract workers each year. If you're looking to make a change in your career path, visit our job board to learn more about our open contract positions today!