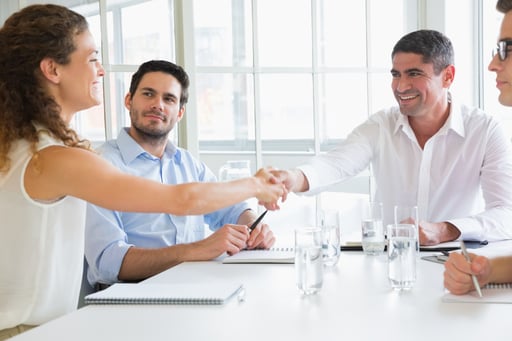 What is a crucial aspect of your business but also one of the hardest things to get right? Hiring.
Although the need to hire more employees can mean your business is flourishing, finding the 'perfect' candidate to add to your team is a challenge that affects all companies in some way, shape or form.
Why is hiring so important for a successful business?
It's simple – your company's success is dependent upon the team members who are running it. The employees you hire are the people that will be selling your product, managing your finances, interacting with your clients and serving your customers. If they aren't capable or interested in handling their responsibilities for the company, your brand will be the one that suffers.
According to a recent study from CareerBuilder, 69 percent of employers said their companies were negatively affected by a bad hire last year. Of those companies, 41 percent estimated that the cost of their bad hire was over $25,000, with 24 percent saying it cost them more than $50,000.
Less productivity, lower sales, legal issues, damaging client relationships and the cost of hiring and retraining another employee are all ways that a bad hire can affect your company's bottom line. However, a bad hire's effect on your office creativity, culture and employee morale – although they are harder to measure – can be just as detrimental for your business.
How can a company be sure that they're bringing on the right employee?
Unfortunately, knowing the future performance of a new hire is impossible – primarily because we can't predict the future, but also because there are so many factors that go into creating an exceptional employee that differ for each business.
According to research conducted by Forbes, they found that out of 20,000 new hires, 46 percent of them failed within 18 months at their new position. Of the 46 percent of new hires that failed, 89 percent failed because of attitudinal reasons.
Even if you find the 'perfect' candidate on paper for a position, there is no guarantee that they will become the all-star employee you need them to be. For instance, an employee that excels in an established, corporate environment may struggle at a more relaxed start-up company with an open office environment. Similarly, a company that hires a candidate with the required technical skills may find that their work habits disrupt the unique company culture on which their business thrives.
Although certain skills are easier to interpret in an interview process (for instance, the ability to speak Spanish vs. the ability to meet deadlines), there are methods you can employ to increase your odds of hiring someone who is the right fit for your business - such as checking professional references, administering personality tests during the interview process and taking advantage of referrals received from your internal and already successful employees.
What is one of the best things you can do to ensure you hire the right people? Don't rush through your interview process.
According to CareerBuilder, "two-in-five hiring managers attributed a bad hire to pressure to fill the job opening." Regardless of how urgent your staffing needs are, an in-depth interview process is required in order to find the right asset for your company. Rushing through the decision making process only causes people to overlook or ignore things about an applicant that they otherwise wouldn't have, increasing the odds that they won't work out.
What if a company needs to hire a position they know nothing about?
Find an expert who does! As you've read, it's in your company's best interest to get your hiring decisions right the first time. In order to do that, sometimes it's necessary to bring in outside help.
Luckily for you, staffing agencies are a great place to turn when struggling to find the right talent to add to your growing team. Messina Group has over 50 years of experience in the staffing industry, and specializes in finding technical experts within the IT, Engineering, Architectural, Scientific, Financial and Marketing fields.
Interested in learning more about our staffing services? Click to learn more!