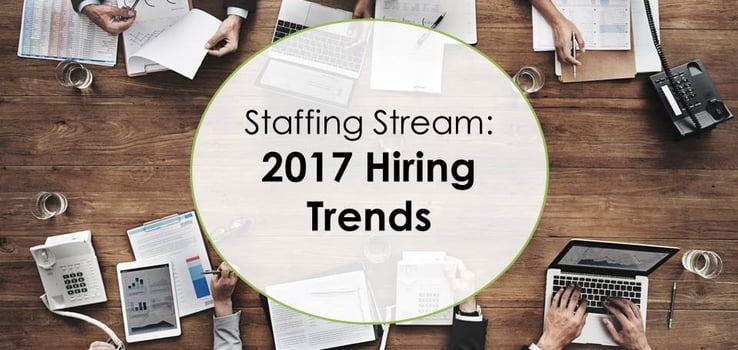 With every new year comes the opportunity for a new start – especially for organizations looking to position themselves as leaders in talent management. In order to maintain a competitive edge, companies need to understand where workplace trends are heading in the New Year, as well as how their current recruitment and retention strategies stack up against the rest of their industry. In this month's Staffing Stream, we've compiled five articles that explore the upcoming hiring trends of the New Year.
Global Recruiting Trends 2017: What You Need to Know About the State of Talent Acquisition
A company's recruitment organization is "the quiet enabler behind their company's successes, giving HR leaders a prominent spot at the C-suite table, driving decisions about the future of the company." However, in order for a recruiting team to be successful, they need to understand where they fall in comparison to their competition's recruitment tactics. In their 2017 Global Recruiting Trends report, LinkedIn helps talent leaders benchmark themselves against recruiting teams across the globe by providing detailed data and information from over 3,000 talent acquisition leaders (manager level or higher) across 35 countries.
10 Workplace Trends You'll See In 2017
As we transition into the New Year, economic and business themes from 2016 continue to impact how companies are choosing to structure their workforce. After conducting hundreds of interviews with HR executives, as well as National and Global online surveys, Forbes predicts the 10 trends that will dominate the workforce in 2017.
How Your Company Can Meaningfully Improve Diversity in 2017
Although corporate diversity has become a heightened topic in the past few years, recent data suggests that a majority of leaders don't have any structures in place to make their organizations more diverse. As companies begin to prioritize their goals for the New Year, Fast Company shares tangible ways organizations can make meaningful improvements to their dedication to diversity in 2017.
Workforce Trends: What to Expect in 2017
As we enter the 2017, businesses are compelled to look ahead to what they can expect in the New Year in terms of their Human Resources strategies. Human Resources Today highlights five trends companies can expect to see in relation to workforce fluidity, office culture and employee relationships in 2017.
5 Key Trends that will Influence HR and Talent Management in 2017
For companies looking to take advantage of technological improvements in order to improve and adapt their talent retention strategies, the New Year is a great time to start. Business Insider details the five key trends that Sylvia Vorhauser-Smith, Global Head of Research at global talent management software PageUp, believes will have the most transformational impact on talent management in 2017.
Are you looking to add talent to your team in 2017?