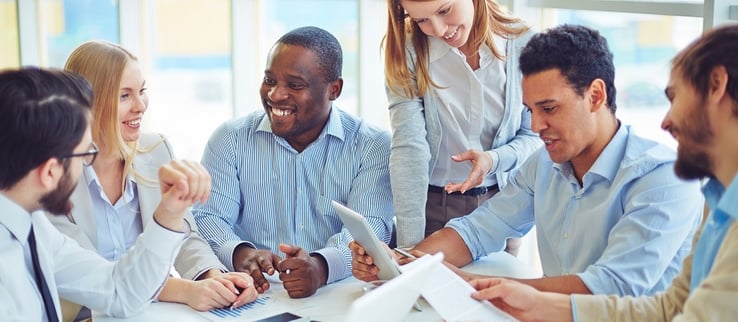 While the difference between recruitment and talent acquisition at first may seem like a simple matter of semantics, these two strategies have fundamental differences in regards to how they are used by companies to acquire and develop their top talent.
RECRUITMENT
According to BusinessDictionary, recruitment is the "process of finding and hiring the best-qualified candidate for a job opening through analyzing the requirements of a job, attracting employees to that job, screening and selecting applicants, hiring and integrating the new employee to the organization."
To break it down more clearly, recruitment is the tactical, reactive approach to finding a candidate that focuses on an organization's short term proposition of filling a position. Recruiting efforts tend to be aimed at satisfying a specific business pain, such as filling an immediate vacancy or a project need, and usually involve finding an outside candidate that is currently available to fulfill the need.
TALENT ACQUISITION
Bersin by Deloitte explains talent acquisition as "A strategic approach to identifying, attracting, and onboarding talent to efficiently and effectively meet dynamic business needs."
Rather than just focusing on filling a list of open positions at a point in time, talent acquisition takes a much more proactive and strategic view of a company's human capital needs. An all-encompassing acquisition strategy incorporates a variety of elements, including strategy planning, workforce segmentation, employment branding, talent scoping and management, recruitment and metrics, aiming to create a long-term talent pipeline that will improve a company's performance, growth and competitive edge.
WHICH Strategy SHOULD YOU USE?
With the recruiting model, a company will reach out to a recruitment agency with a list of positions that need to be filled and the qualifications required for each job. Then, the recruiting team will begin to source and screen applicants to find the best-qualified candidates to fill the open positions at hand. While a recruiting model can be an effective strategy, it is very narrow in scope and limited in the value added when compared to the talent acquisition methodology.
The goal of a successful talent acquisition strategy isn't to fulfill the needs of today, but to anticipate the hiring needs of tomorrow and find the technical experts, leaders and future executives that will continue to move the company forward. When working with an agency that specializes in talent acquisition, the primary focus is to help their clients evaluate all possible solutions available (contractors vs. contract-to-hire employees vs. permanent employees), understand the comprehensive "lifecycle" costs of acquiring, developing, retaining and replacing human capital using each of the different models, and then develop a customized solution that has the highest ROI over the life of the project. Although utilizing this methodology can be more time consuming upfront, it is the most efficient way to attract, retain and maintain top-tier talent – especially if your growth plan includes the need for more specialized and technical hiring.
When companies look for outside help to acquire new talent, most turn to recruiters – thinking that all outside sourcing agencies are on in the same. However, when it comes to long-term planning, a talent acquisition strategy will yield the most fruitful results for a growing organization.
At Messina Group Staffing, we view ourselves as talent consultants rather than recruiters. We are "solution agnostic," meaning we are unbiased when evaluating all options to solve a problem. We have deep experience in all of the different staffing solutions, and we know that talent acquisition is not a one-size fits all proposition. Based on an intimate knowledge of each client's growth strategy, the labor supply trends in their industry, and the pros and cons of the various solutions, we help clients develop and execute talent management strategies that are tailored to their unique business needs and resources.