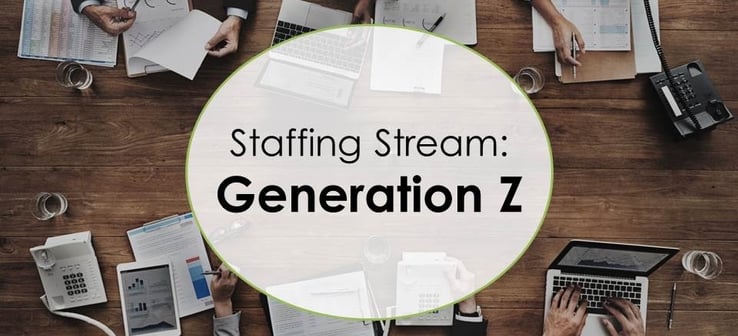 Generation Z consists of those born in the mid 1990s to the early 2000s, and makes up 25% of our population, according to the U.S. Census Bureau. They are the first post-millennial generation to enter the workforce - and like Millennials, their generational characteristics are going to challenge our workplace norms. In this month's staffing stream, we share the characteristics of this new, interconnected generation, as well as highlight ways to prepare your company for the incoming job seekers.


8 Key Differences Between Gen Z and Millennials
Although Millennials and Generation Z-ers do share similar traits, they also possess surprising differences that are worth taking note of - especially if you own a business and are looking to adapt your strategies. Huffington Post sheds light on the key differences between the two young generations.

How Will Next-Gen Workers Learn? Look to Preschool
In order to learn more about the new generation entering the workforce, it's important to explore how their early childhood education is preparing them for school life and everything that comes after. Talent economy shares the technological trends that are occurring in our society's preschooling and how those skills translate to our adapting labor market.

Is Generation Z Too Interdependent - or is That the Future of Work?
Generation Z-ers are the first generation to grow up in the age of interconnected devices. However, like the millennial generation, the technological upbringing can pose certain challenges when it comes to adapting to the current workforce. Recruiter.com explains the struggles that were beginning to see in the young workers as they settle into their new place within the labor pool.

7 Things Employers Should Know About the Gen Z Workforce
With this new generation on the cusp of dominating our talent pool, it's imperative that employers know what they're dealing with. A global research and advisory firm, Universum, surveyed 49,000 members of Generation Z. In this article, Forbes translates that data into actionable insights for businesses to use when interacting with the new workforce.