After an extensive interview process, you find the right candidate and make an offer – only to have the potential hire turn you down. What went wrong?
As the talent pool continues to become more competitive, we are seeing candidates forgo employment offers for two main reasons.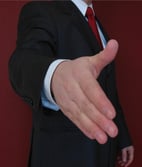 Formal Offer Timeline
A recent candidate said that his top choice became his last choice because of the time between when the offer was verbally made and formally received. He waited two weeks for the confirmation letter. As the sole provider of health insurance for his family, knowing the costs and options within the plan was of utmost importance.
When the job offer finally arrived, he turned it down. During the waiting period, he continued to interview and accepted another position with a company that moved quickly when they recognized his potential contributions.
Without a written offer, candidates are in limbo. They are not able to make arrangements with their current employer or plan for their future with your company. Making a timely offer shows respect for the candidate's decision process and proves you are serious about bringing them onboard.
The Personal Side of Benefits
Benefits are just as important as salary. When another candidate had two offers, she chose the employer based on the way the offer was presented. Rather than sending her a mailed letter, they sat down with her and went over salary, benefits, vacation and special perks. It gave her time to ask questions and fully understand her benefit options.
When investing in an employee, taking time on the front end to make them feel welcome establishes a deeper connection. If you are in a multiple offer situation, it will set your company apart from the competition.
The Right Way to Make an Offer
Presenting the offer is just as important as searching for the ideal candidate. Offers should always be in writing, timely and contain an explanation of benefits.
In Writing
A written offer that establishes salary, benefits and reporting relationships clearly defines the role within the organization. It establishes a point of reference for both the company and candidate. The offer should also include the start date, position title and any contingencies, such as signing a confidentiality agreement or passing a background check.
Timely
After negotiations are final, the offer letter should be sent via traceable shipper, like UPS, and received within two business days. If the offer is sent via email, include a "read receipt" so that you know the offer has been received.
Contain a Full Explanation of Benefits
Outline important benefits, such as healthcare and retirement plans, along with special perks. Send detailed information in the packet, so that the candidate has all of the information they need.
Above all, make the offer personal. Include a phone number and/or email address that candidates can use if they have questions. If possible, meet in person to discuss the offer in greater detail.
When potential employees are faced with competing offers, they tend to choose an employer who demonstrates that they are valued. Put your company's best foot forward by making the candidate feel welcome from the start.