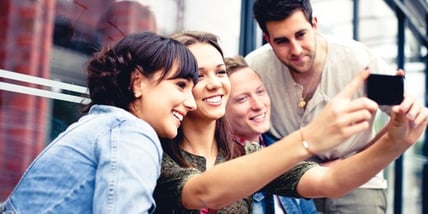 Generation Z is coming of age and about to enter your work place.

Born in 1996 and after,
they've been
labeled as the generation unable to remember the world impact of 9/11.
And, no, this new generation is not just like their Millennial big brothers and sisters. In fact, they are showing signs of being quite different, especially when it comes to how they get work done. Generation Z has grown up with a device in their hands since toddlerhood -- with technology and information on demand at their fingertips. This characteristic is presenting itself now in how Gen Z employees have different needs than previous generations when they enter the work force. Here are some secrets into the psyche of this generation that will help you attract and retain them as employees.
They Crave Independence
Independence in the workplace is huge for Gen Z. This doesn't mean that they don't want to work with others, they've been collaborating with others through technology and social media their entire lives, however they do want their own space when working. The technological influence of their childhood has created a generation of innovative and creative thinkers that want independence from their employer to reach their full potential. Don't worry that giving Gen Zers this freedom will result in lack of productivity. According to The Center for Generational Kinetics, they are 50% less likely than older generations to think it's appropriate to surf the web or use their phone during work hours.
They Worry About Job Security
Millennials want to matter in their work place, as does Generation Z, however they worry about safety more. This new generation grew up during the heat of the recession and saw its impact on their parents. This experience has caused them to worry about their status in their position in addition to the ease to advance to further leadership opportunities. They expect opportunities to be given to those that work the hardest, and will be competitive to attain those opportunities. When shopping for companies that will offer them a career, wanting to feel like they matter to the company is near the top of Gen Z's checklist.
Transparency is Key
Gen Z's entrepreneurial spirits will drive them to look for a purpose in their tasks, making your transparency of the company's goals to these newcomers more important than ever. Generation Z won't be as easily bribed by the cool things an office is stocked with, as they're more focused on if the company fits their values and goals. Instead of showing off to them, they want leadership to show transparency so they can see if they align with the company's leaders. Furthermore, they see and experience mattering through their daily interaction with their personal social media accounts, and crave the feeling that they are valued by the company's leadership as a result. Just as they are said to be the generation that wants to change the world, this begins with the impact that they have on their work.
The desire for this generation to have independence, feel secure, experience transparency from leadership and alignment with the company's goals will drive this generation into certain workplaces and away from others. When recruiting Generation Z, express to them that their independence and opinions will be valued by your company. Share your company's goals and where you see their role assisting in reaching those goals. This generation has an innate desire to feel their impact on the tasks they're involved in. Expressing to them how you will help them feel impactful is going to bring Generation Z into your workplace.
Need help hiring young talent? Messina Group supplies candidates at all skill levels.