Summer is just around the corner, which means college seniors are graduating - most with the hopes of landing their ideal job.
While recent graduates can be overlooked or underappreciated at times, they are a promising and valuable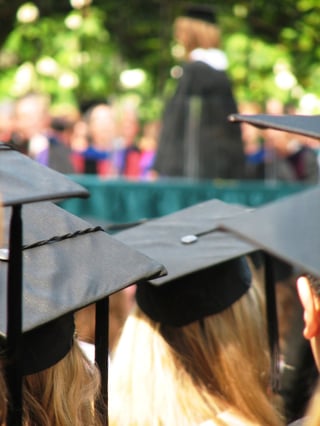 sector of our labor pool, especially for companies with long-term goals for their employees. More and more employers are taking advantage of this ever-growing demographic when looking to expand their team, and rightfully so.

Still not convinced? Here are 5 reasons why recent grads and their unique offerings can benefit you:
Technology Skills: Unlike past generations, graduates today have technological proficiencies that are applicable to our modern business environment. Their experience is unparalleled to those of the past, and even if they didn't major in a technology field, they have had constant exposure to technology throughout their entire lives.



What does this mean for your business?


Recent grads don't have the same learning curve when it comes to interacting with technology, new software or keeping up to date on social media trends – therefore, where technology is concerned, they hit the ground running from the start.


Lower Compensation: A major benefit that comes with hiring a recent graduate is their low salary requirements. Since a 22 year old usually doesn't have as many expenses as a 35 year old employee with a family, they are usually open to – and often expecting – an entry level salary.



What does this mean for your business?

The average starting salary for 2014 recent graduates was $48,127 – according to National Association of Colleges and Employers (NACE), which means companies can fill their hiring needs with employees that are cost efficient solutions for their business.
Malleable:

Although a college graduate may have had an internship or a part-time job during school, their lack of 'real world' work experience actually creates an advantage for your business.

What does this mean for your business? The attitudes, biases and habits that experienced candidates develop can be challenging to work with, especially if they deter from your company's culture. However, since a college graduate hasn't worked long enough to develop any significant tendencies, you can play a large part in shaping their work habits and aligning them with your company's culture.
Fresh Perspective and Eager to Work: Since graduates are entering the workforce for the first time, they bring uninhibited perspectives paired with an excitement to begin their career that is often missing from your seasoned employees.

What does this mean for your business? Fresh perspectives from employees who don't have the knee jerk reaction, "that's not the way we used to do it." Think of them like sponges, ready to soak in as much information as possible and willing to go where others might not care or have the ability to go.


Relevant Skills: While recent graduates haven't had the typical work experience you might be looking for, they still possess relevant skills that will help them transition into a full-time role successfully.

What does this mean for your business? Recent graduates come with honed skills such as the ability to comfortably work in a team environment, handle and prioritize their workload, effectively multitask and efficiently persevere under a deadlines - all of which are vital to an employee's long term success at an organization.
Whether you're looking for an intern, an entry level employee or someone to add a new spark to your team, recent graduates could be the demographic that yield creativity and success for your business.

Looking to hire a recent graduate? Messina Group supplies talent at all skill levels to fill your hiring needs. Click here to learn more.