It's a new year, which means it's time for a new you. Whether you're unemployed, employed, a recent college graduate or an experienced worker, your professional identity is something that should always be a top priority. Revamping your skill set is a great way to keep your professional persona on track and ahead of the game. And doing some professional network maintenance from time to time not only benefits your future opportunities, but can also open some new doors in your present circumstances.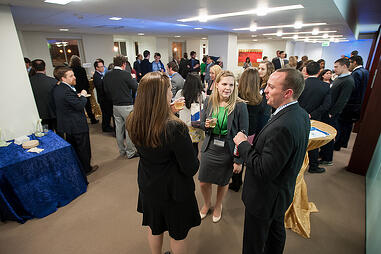 Here are three ways that you can take advantage of some of the networking opportunities to update your professional identity that are easy, effective and useful at any point in a professional career.
LinkedIn
If you have it, use it. If you don't, get it. It's really that simple. LinkedIn's main purpose is to connect people within the professional environment by providing a platform for those relationships to be created and nurtured. It is not only a resource to help you connect with other professionals and potential employers, but it's also a resource for those employers to find you. As a basic user, you are able to create profile for free and begin building you professional network one link at a time. Aside from just connecting with other professionals, users can also follow companies, staying updated on their current events and recent job postings. Creating a profile and regularly updating it expands your professional network and knowledge, and allows your skills to be viewed by people, employers and recruiting companies who often use LinkedIn to find their desired talent. Utilizing LinkedIn is an easy way to make sure that the information you are advertising to your professional environment reflects your new and continuously improving professional self.
Professional Events
If computers and social networking sites aren't your area of expertise, attending professional seminars and networking events is a great way to keep updating your professional network or break into a new one. Direct, face-to-face interaction is the quickest and arguably the most effective way to make new connections in the professional environment. And attending seminars and networking events allows you to gain insight into your particular field of interest, while also providing the opportunity to connect with professionals you otherwise might not have on a more direct and personal level. This will help expand your network, giving your professional identity the revamp it deserves.
Be Proactive
Forming professional connections that actually lead to landing your dream job can be very hard to come by. But what a lot of people don't realize is that you probably have more connections than you think. Whether it's your parent's friend or a friend of a friend of a friend, you have a professional network and you shouldn't be afraid to use it. After all, the point of having a professional network is to use it to your advantage in some way. And regardless if your 23 or 53, you should reach out to the people in your network because they usually want to help. Taking the time to reach out to friends and colleagues from both your past and present can rejuvenate those relationships, breathing new life into your professional identity.
These are only a few ways you can give your professional identity the revamp it needs, but taking advantage of all the opportunities you're provided can help you turn 2015 into a new professional you.