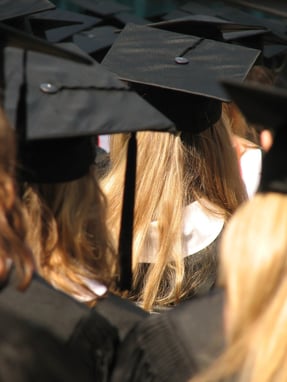 A recent column from The New York Times points out that the jobless rate for college graduates younger than 25 was 8.2% in 2013, compared with 3.2% for college graduates age 25 and older. While there are certainly many factors at work causing this disparity, the younger graduates' relative lack of interview experience, business professionalism, and communication skills are often what keep these younger people from landing jobs.
As a corporate recruiter, I talk to thousands of job applicants each year to find candidates who are a great fit for our clients. Often, recent college graduates lose out on jobs because during interviews they aren't able to display the "soft skills" that employers are looking for, not because the recent graduates don't have the technical skills or expertise needed to do the job.
Smart employers know that skills such as time management, communication, teamwork, and attitude are often what determine an employee's productivity and ultimate success. If you are a recent graduate, you should focus on using the interview process to prove that you have these "soft skills" that companies covet:
Time management: As an employee working on multiple projects, your ability to manage your schedule and use your time efficiently is paramount to your productivity. In the interview process, you want to display your time-management skills. First of all, do not be late to the interview. You'll want to arrive about 10 minutes before the scheduled interview time.

During the actual interview, point out things on your resume that show how you were able to successfully juggle competing demands on your time. For example, you can point out that your GPA is particularly impressive in light of the fact that you worked 20 hours a week during school or were involved in the leadership of an extracurricular organization.

Communication skills: Being a good communicator is one of the most important skills in any field. During the interview the employer will be paying very close attention to how you communicate. Make sure you sit tall and maintain eye contact when answering questions. When you answer questions, you want to be confident in your answers without coming across as arrogant.

Don't simply give a yes or no answer to their questions; elaborate on what you mean by drawing from parts of your resume or projects that you worked on at school or through internships. If you don't know the answer to a question, it is perfectly OK to say, "I don't know; I will need more time to think about that." That is much more impressive than trying to make something up to trick the interviewer into thinking that you know what you're talking about.

Come prepared: As is the case with most things in life, preparation is a huge part of success in an interview. When you show up for the interview, you want to be as prepared as possible. Spend time learning about the company online. Don't just go to the company's website; look up recent articles about the company. If possible, use LinkedIn or your personal network to talk to someone you know who works at the company to get their insight.

Being prepared also means knowing your resume backwards and forwards. You should be able to answer the interviewer's questions about your experience without looking at your resume. As you are preparing for the interview, spend time identifying what you think are your biggest assets, and then think about ways you can work these attributes in to your answers to the interviewer's questions.

Business professionalism: You want to convey that you have a firm grasp of the standards and values that the company expects out of its employees. You also want to show that you are taking this opportunity seriously.

This is why it's so important to dress appropriately for an interview. Before your interview, contact the recruiter or the company's human resources representative and ask about the company's dress code. You should wear an outfit that is in-line with or slightly more formal than what the company's employees usually wear to the office. You definitely don't want to be underdressed or dressed inappropriately. (This includes wearing clothes that are too revealing or tight-fitting or, conversely, too baggy or wrinkled). An interview certainly isn't a fashion show, but your clothes and your overall appearance (including your grooming and hygiene) go a long way in forming the impression you are making on the company.
The best way to develop these "soft skills" is through practice. That's why internships during college can be so valuable. Not only do you get a chance to work in a field that you're interested in, but you also get to be around other experienced professionals and see how they conduct themselves. By learning from these experienced professionals, you can use your next interview to show that you have both the hard skills and the soft skills that the company is looking for.
Are you a recent graduate looking for work?