Everyone working for a startup will tell you that the "old way" of searching for a job is dated – after all t-shirts and dogs are acceptable at the office. The reality is that most recent graduates will find employment at a traditional company. Sure, you may have a stocked refrigerator and pool table, but the normal rules of interviewing still apply.
These traditional companies are usually exhibiting at job fairs. As an attendee, I've had the pleasure of meeting many great candidates who we have successfully placed in full-time roles. Below are some ways that you can make a great impression at your next job fair.
Start with an Introduction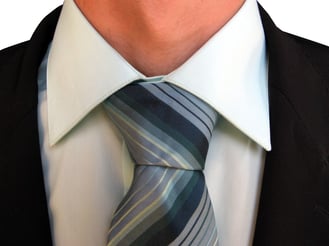 Oftentimes, people will come to our booth and ask what types of positions we have open. As a staffing firm, we have a multitude of roles. It is helpful when a candidate hands me their resume and then says, "My name is John Smith. I am a digital marketing professional looking for a new opportunity."
Telling a recruiter who you are and what you want helps to direct the conversation. And, if there is not a current role that matches your background, the recruiter can tell you right away. Many will hold on to your resume for future reference.
Maintain Eye Contact
There is a reason why you stopped at a company's booth. Give representatives the courtesy of hearing what they have to say – even if there is not a direct match at the time. When you lose eye contact and start plotting your next exhibitor visit during the conversation, a recruiter will notice. This simple offence will drop your resume into the "no" file.
Avoid Hygienic Faux Pas
It is better to be forgettable than to be remembered negatively. The basics of having showered, wearing a freshly pressed suit and being well groomed are standard. However, you have to remember that you are on stage. Subconscious actions can work against you. For example, I had a candidate stop by the booth eating a piece of chocolate. When he was finished, he licked his fingers. Enough said.
Resist the Freebie Effect
Companies give away small tokens that carry the corporate logo. We are talking about pens, notepads and water bottles. Your reputation is not worth the trick-or-treating effect. Walking around to every booth to collect these items is not why you are at the job fair. People have reached around a conversation I was having with a candidate to take one of our pens. Again, you want to be remembered for being a professional.
Job fairs are a great way to network with many companies within a short timeframe and working them well will open you up to new opportunities. As a recruiter, I can tell you that we put resumes of job fair attendees who have impressed us in our system. So although we may not have a current role for you, we will remember you in the future.